How Do You Install Awnings?
Awnings are a great way to add a touch of style and protection to your home. Installing awnings can be a great DIY project, and with the right tools and instructions, you can quickly and easily install an awning in no time. This guide will walk you through the steps necessary to install awnings in your home, from determining the best placement for the awnings to completing the installation process. With patience and attention to detail, you'll be able to enjoy the benefits of having awnings in your home in no time.
Types of Awnings
Awnings are a popular and stylish way to reduce the amount of sunlight and improve ventilation in a home or business. They come in a variety of materials and styles, from retractable awnings for outdoor patios to window awnings for an extra layer of sun protection. Depending on the type of awning, it can also be used to increase privacy and enhance the aesthetic of a home or business. Retractable awnings are great for outdoor patios because they can be easily adjusted to provide shade and protection from the elements while still allowing natural light to enter. Window awnings provide an extra layer of sun protection for the interior of a home or business, and can be used to provide extra privacy. Fixed awnings provide a more permanent option, and are often used for balconies or overhangs. No matter the material or style, awnings are a great way to improve the look and functionality of any home or business.
Benefits of Installing an Awning
Awnings provide numerous benefits that can help improve your lifestyle. Not only do they add a stylish touch to your home, they also provide protection from the elements. Installing an awning can protect your home from excessive sunlight, rain, and even snow. Furthermore, an awning enables you to enjoy outdoor spaces like patios and decks more comfortably, regardless of the weather. With an awning, you can enjoy your outdoor spaces during all seasons without fear of exposure to the elements. Additionally, an awning helps reduce your energy costs by blocking out the sunlight and helping to keep your home cooler. By shading windows and doors, an awning also provides extra privacy for your home. Installing an awning is an easy way to add style, comfort, and protection to your home.
Choosing the Right Awning
Choosing the right awning for your home or business can be a complicated decision. With the wide variety of fabrics, styles, and sizes available, it can be difficult to know which awning is best for your needs. Factors such as climate, location, and design should all be taken into consideration when selecting an awning. To make the selection process easier, you should consider the purpose of the awning, the type of fabric it is made from, and the size and shape of the awning. A professional awning installer can also provide guidance on the best options for your needs. By taking the time to research your options, you can find the perfect awning to fit your needs and enhance your outdoor space.
Preparing the Installation Site
Preparing the installation site is an essential step in the process of installing a new product. It involves assessing the environment in which the product will be installed to ensure that it is suitable for optimal performance. This includes assessing factors such as the size, shape, and structure of the site, its temperature and humidity levels, and its electrical and mechanical conditions. It may also involve physically preparing the site, such as by clearing away any debris, installing components, and making any necessary modifications. Proper preparation of the installation site can help to ensure that the installation process is successful and that the product is able to perform as expected.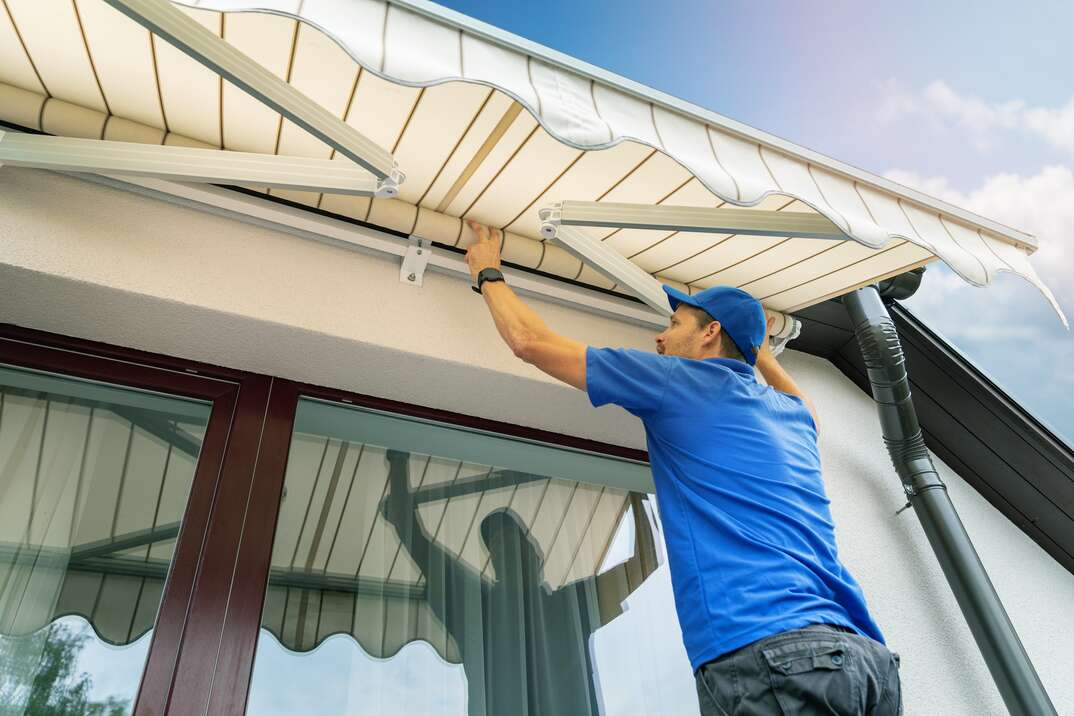 Image source: https://www.homeserve.com/en-us/blog/how-to/install-retractable-awning/
Installing the Awning
Installing an awning can be an easy and efficient way to provide shade and cover to your outdoor space. Whether you are looking to protect your patio, outdoor dining area, or garden from the sun or rain, an awning can be a simple and cost-effective solution. With the right tools and a bit of patience, you can install your awning in no time. With the ability to customize the size, shape, and color of your awning, you can create an outdoor space that is both stylish and functional. Installing an awning is an easy and convenient way to add comfort and value to your home.
Securing the Awning
Securing the Awning is an online blog dedicated to providing readers with useful tips and advice on how to keep their awnings safe and secure. From choosing the right materials to installing the awning properly, we cover all the bases to ensure that your awning is ready for anything the weather throws at it. Our blog is also full of helpful hints and ideas to help you maintain the awning and extend its lifespan. Whether you're an experienced pro or a first-time awning owner, our blog has something for everyone. So, if you're looking for helpful advice on awning safety and security, look no further than Securing the Awning.
Finalizing the Installation
The installation of any software program or application can seem daunting, but it doesn't have to be! The key to a successful installation is to ensure all the necessary steps are followed. From preparing your system for the install to ensuring compatibility with existing systems, a little bit of planning can go a long way. Once all the necessary steps have been taken, the installation process should be smooth sailing. Finalizing the installation is a critical step that ensures that the program is up and running correctly and is ready to be used. With the right preparation, any installation can be finalized quickly and effectively.
Maintenance and Safety Tips
Maintenance and Safety Tips is a blog section dedicated to helping you maintain and ensure the safety of your home and family. Here, you will find a range of informative articles and expert advice on topics such as home security, fire safety, heating and cooling, electrical safety, and more. Our content is designed to provide practical tips and information to help you keep your home and family safe and secure. We also offer advice on home repairs and maintenance, energy efficiency, and other related topics. Whether you are a homeowner, renter, or landlord, Maintenance and Safety Tips has something for everyone.
Conclusion
Installing awnings can be a simple and rewarding DIY project. With the right tools and some basic knowledge, you can have your awnings up in no time. For more complicated installations, it may be best to contact a professional for help. Either way, with the right preparation, you can be sure that your awnings will be a stylish and functional addition to your home.