What Is The Most A Mortgage Broker Can Make?
Mortgage brokers are financial professionals who act as intermediaries between borrowers and lenders. They are responsible for finding the best loan terms and rates for their clients, as well as providing advice and guidance throughout the loan process. Mortgage brokers typically earn a commission from the lender when they successfully arrange a loan. The amount of money a mortgage broker can make depends on the size of the loan and the number of loans they are able to process. In general, experienced mortgage brokers can make six-figure salaries if they are successful in their business.
Overview of Mortgage Broker Salaries
Mortgage brokers are a valuable asset to the real estate industry. They provide invaluable assistance to those looking to purchase a home by helping them secure the best possible loan and terms. Mortgage brokers are professionals who are knowledgeable in the field of finance and loan products, and they have the ability to negotiate the best rates and terms for their clients. As such, they are highly sought after and their salaries can be quite lucrative. This overview looks at the average salaries of mortgage brokers, and how those salaries can vary depending on experience, location, and other factors.
Factors That Determine Mortgage Broker Earnings
Mortgage brokers are an invaluable resource for those looking to purchase a home. But how much do these professionals actually earn? Mortgage broker earnings are determined by a range of factors, from the size of the loan to the type of brokerage. In addition, the experience of the broker, their client network, the local economy, and the economic climate all have an impact on their earnings. Ultimately, mortgage broker earnings are based on the total amount of loans they are able to arrange, as well as the fees they are able to charge for their services. It is important to remember that mortgage brokers are only paid when the loan is approved, so success in this field requires excellent interpersonal skills and a strong working knowledge of the mortgage industry.
Types of Mortgage Brokers and Related Earnings
Mortgage brokers are specialized professionals who help people find the most suitable home loans for their needs. They provide advice on the most competitive rates and terms based on a client's individual financial situation. There are several different types of mortgage brokers, each with its own unique approach to helping clients secure a mortgage. The most common types are independent brokers, wholesale brokers, and captive brokers. Independent mortgage brokers work with a variety of lenders to find the best loan options for their clients. Wholesale brokers work with large financial institutions to provide discounted rates to clients. Captive brokers are typically employed by a particular lender and only offer their employer's products. Mortgage brokers can earn a variety of incomes depending on the type of business they operate. Independent brokers typically earn commissions from lenders based on the loan amount and type. Wholesale brokers typically earn a flat fee for their services. Captive brokers typically earn a salary with bonuses and other incentives.
Common Benefits for Mortgage Brokers
Mortgage brokers are invaluable professionals who help people obtain the right home loan for their particular needs. They provide a variety of services to make the process of securing a mortgage as simple and stress-free as possible. Common benefits of working with a mortgage broker include access to a wide range of lenders, personalized advice tailored to individual needs, and expertise in the ever-changing mortgage market. Mortgage brokers are committed to helping borrowers find the most suitable loan product for their particular requirements, and they can often negotiate better rates and terms than borrowers could find on their own. As an added benefit, mortgage brokers can often arrange for the entire loan process to be completed quickly and efficiently while providing helpful advice throughout the process. With their extensive knowledge and experience, mortgage brokers are the ideal partners for borrowers looking to purchase a home.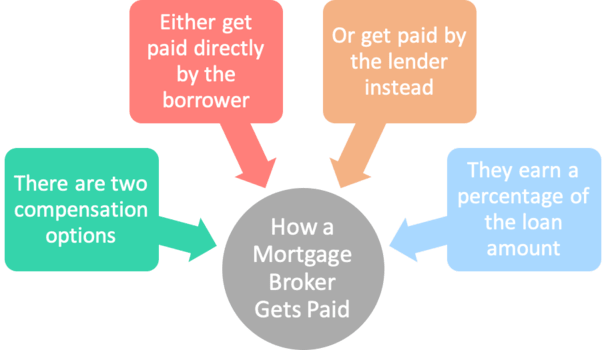 Image source: https://www.thetruthaboutmortgage.com/how-much-do-mortgage-brokers-make/
Prospects for Future Earnings
The prospect of future earnings is an important factor for any individual or organization looking to increase their income. With the right research, planning, and strategies, future earnings can be maximized in order to meet financial goals. The "Prospects for Future Earnings" blog provides the latest information and strategies to help you maximize your future earnings. From the latest economic trends to the best investment opportunities, the blog provides the insights you need to maximize your potential for future earnings. Whether you're an individual looking to supplement your income or an organization looking to maximize its profits, the "Prospects for Future Earnings" blog is the ultimate resource for staying on top of the latest trends and strategies to maximize your future earnings.
Strategies for Maximizing Mortgage Broker Earnings
Mortgage brokers provide a valuable service to customers, helping them to secure the best financing for their home purchase or refinance. As a broker, your goal is to maximize your earnings while providing superior customer service. This blog post explores strategies for maximizing your mortgage broker earnings. From leveraging technology to developing a referral network, we'll discuss the practical ways you can increase your income. We'll also review the benefits of staying up-to-date on industry trends and the importance of building strong relationships with lenders. By following the tips outlined in this blog post, you'll soon find yourself maximizing your mortgage broker earnings.
Challenges Facing Mortgage Brokers
Mortgage brokers are an important part of the housing market. They provide potential homeowners with access to a wide range of loans from different lenders, allowing them to find the best deal for their needs. Unfortunately, mortgage brokers face several unique challenges, including increased competition, lack of transparency, and stringent regulations. As the housing market continues to evolve, these challenges are becoming more and more difficult to manage. Mortgage brokers must remain agile and innovative to remain competitive and provide their clients with a great experience. By staying ahead of the curve, brokers can continue to offer beneficial services to their clients, making them an essential part of the housing market.
FAQs About the What Is The Most A Mortgage Broker Can Make?
1. How much experience do you need to become a mortgage broker?
Answer: Most states require mortgage brokers to have a minimum of two years of experience in the financial industry. You may also need to be licensed to work as a mortgage broker in your state.
2. Is a mortgage broker a good career choice?
Answer: Yes, becoming a mortgage broker can be a great career choice. Mortgage brokers have the opportunity to help clients find the best mortgage options to fit their needs, and they can earn high commissions for their services.
3. What is the average salary of a mortgage broker?
Answer: The average salary of a mortgage broker varies depending on experience, location, and the number of loans they process. However, the average salary for a mortgage broker in the United States is currently around $63,000 per year.
Conclusion
Mortgage brokers can make an unlimited amount of money depending on the number of clients they have and the amount of their commission. They can also make a good living by working with different lenders and providing quality service to clients. With the right combination of knowledge, experience, and hard work, a mortgage broker can make a significant amount of money.