How to Decorate a Bedroom With Cherry Wood Furniture
Cherry wood furniture is a classic choice for bedrooms. It has a warm, rich look that works well with many different design styles. If you have cherry wood furniture in your bedroom, there are several ways you can decorate around it to create a beautiful and cohesive space.

Here are some tips on how to decorate a bedroom with cherry wood furniture. One way to incorporate cherry wood furniture into your bedroom décor is to use it as an accent piece. For example, if you have a light-colored bed frame, dresser, and nightstand, adding a dark cherry wood armoire or chest of drawers can help anchor the space.

You could also use cherry wood accents like picture frames or lamps to add pops of color and interest. Another way to work with cherry wood furniture is to pair it with other warm tones and materials. Try using throws and pillows in colors like burgundy or chocolate brown to create a cozy and inviting feeling in the room.

If you want to add a bit of contrast, consider using white bedding or walls as a backdrop for your Cherrywood furnishings.
Choose a paint color that will complement the cherry wood furniture
A light pastel shade will work well to highlight the natural beauty of the wood
Add some throw pillows in coordinating colors to add a touch of style and comfort to the bedroom
Place a vase of fresh flowers on the dresser or nightstand for a pop of color and a pleasant scent
Hang some artwork on the walls that complements the overall look of the room
Finally, add any other finishing touches such as scented candles or a small area rug to complete the space
How to Update a Bedroom With Cherry Furniture
When it comes to updating a bedroom, cherry furniture can be a great option. This type of furniture can add a touch of elegance and sophistication to any space. Here are a few tips on how to update a bedroom with cherry furniture:
Start with the bed. The bed is the focal point of any bedroom, so it's important to choose cherry furniture that will complement your bed frame. If you have a traditional-style bed, look for cherry headboards and footboards. If you have a more modern bed, look for clean-lined dressers and nightstands in this rich wood tone.
Add some accent pieces. Cherry furniture can also be used to create an inviting reading nook or dressing area in your bedroom. Look for chairs, ottomans, and side tables in this warm hue. Then, accessorize with throw pillows, blankets, and lamps in coordinating colors to complete the look.
Use light colors to balance the space. Because cherry furniture has such a rich color, it's important to use light colors elsewhere in the room to balance things out. Paint the walls in a soft white or cream color; choose bedding and window treatments in similar hues; and consider adding some airy plants to help purify the space.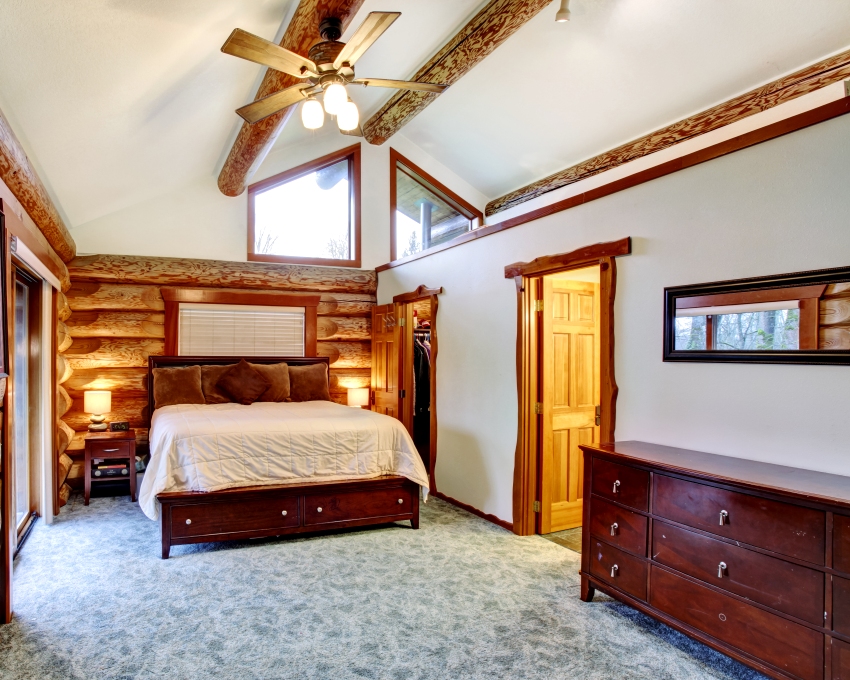 Credit: designingidea.com
What Colors Go With Cherry Wood Bedroom Furniture?
When it comes to choosing colors that go with cherry wood bedroom furniture, there are a few things to keep in mind. First, cherry wood has a warm, rich tone that can be enhanced by choosing colors with similar tones. Second, because cherry is such a dark wood, you may want to consider using light-colored paint or wallpaper to brighten up the space.

Third, if you want to create a more dramatic look, consider using darker colors like black or navy blue.
What Color Bedding Goes Well With Cherry Wood?
There are a few colors that go well with cherry wood. These include white, ivory, light gray, and taupe. When choosing to bed for a cherry wood bed, it is important to consider the overall design of the room and the specific style of the bed.

If the room has a lot of other cherry wood furniture or accents, then choosing bedding in one of these complementary colors will help to tie everything together. If the bed is more modern in style, then a pop of color like yellow or green can look great against the dark wood. No matter what color you choose, be sure to pick something that you love and that will make your bedroom feel inviting and cozy.
Credit: www.designingidea.com
Is Cherry Wood Furniture Out of Style?
It's hard to say if any one style of furniture is "out of style." Trends come and go, and what was popular 20 years ago might be making a comeback now. That said, cherry wood furniture has been popular for centuries and shows no signs of going out of style anytime soon.

Cherry wood is prized for its rich red color and beautiful grain pattern. It's often used in high-end furniture, cabinetry, and flooring. Because it's so durable, it can last for generations with proper care.

If you're considering buying cherry wood furniture, you can rest assured knowing that it will never go out of style. Whether you choose a traditional or modern piece, this type of furniture will add beauty and value to your home for many years to come.
How Do You Modernize a Cherry Wood Dresser?
When you want to modernize a cherry wood dresser, there are a few things you can do to change its look. First, consider painting the dresser a new color. You might choose a bold color like red or yellow, or go with something more neutral like gray or white.

If you don't want to paint the entire dresser, you could just paint the drawer fronts in a new color. Another way to modernize the look of a cherry wood dresser is to replace the hardware. This is an easy and affordable way to give the dresser a whole new look.

Finally, consider adding some new accessories to the dresser top, such as vases or candles. These simple changes can really transform the look of your cherry wood dresser and help it fit into your modern décor scheme.
Bedroom Ideas With Dark Furniture
Conclusion
Cherry wood furniture is a classic choice for any bedroom. It has a rich, warm color that can make any space feel inviting and cozy. While it may seem like a daunting task to decorate a room with cherry wood furniture, there are actually quite a few ways to do it.

One way to incorporate cherry wood furniture into your bedroom décor is to use it as an accent piece. For example, you could use a cherry wood dresser as an accent against light-colored walls. You could also use a cherry wood headboard or footboard to add some contrast to your bedding.

Another way to decorate with cherry wood furniture is to use it as the main focal point in the room. This can be done by using a cherry wood bed frame or by placing a Cherrywood armoire in the room. If you want the room to feel more modern, you can pair the furniture with clean lines and muted colors.

However, if you want the room to feel more traditional, you can go for richer colors and patterns. No matter how you decide to incorporate cherry wood furniture into your bedroom décor, there are plenty of ways to do it successfully. With a little bit of creativity and effort, you can create a space that is both stylish and comfortable.