How to Decorate a Patio Table
When it comes to patio tables, there are a lot of different ways that you can go about decorating them. You can keep it simple with just a few basic decorations, or you can go all out and make a statement. No matter what your style is, there are plenty of ways to decorate a patio table to fit your needs.

Here are a few tips on how to decorate a patio table: One of the easiest ways to decorate a patio table is with some fresh flowers. Flowers add color and life to any space, and they're also relatively inexpensive.

You can either pick up some flowers from your local grocery store or farmer's market, or you can grow your own in pots on the patio. Either way, adding some fresh flowers to the table is an easy way to brighten things up. Another way to spruce up a patio table is with some greenery.

This could be anything from potted plants to hanging vines. Plants not only add color and life to the space, but they also help purify the air around them. If you have kids or pets who spend time on the patio, this is especially important as it will help them stay healthy and happy.
Choose a style for your patio table
Whether you want a rustic, shabby chic look or something more modern, there is a style to suit any taste
Pick out a tablecloth that coordinates with your chosen style
If you want a rustic look, choose a checkered or floral patterned tablecloth
For a shabby chic look, opt for lace or an off-white color
Modern styles can incorporate solid colors or geometric patterns
Add some interest to your patio table by incorporating unique centerpieces
Flower arrangements are always popular, but you could also get creative with Mason jars filled with candles, sand, and seashells, or even fruit and vegetables arranged in baskets or bowls
Don't forget about the little details! Place settings should be carefully considered and napkins can be folded into decorative shapes to add an extra touch of elegance
Candles and lanterns can also be used to create a warm and inviting atmosphere on your patio table
Fall Patio Table Decor
As the weather gets cooler and the leaves start to change color, it's time to start thinking about fall patio table decor. There are so many great ways to decorate your patio table for fall, and we've rounded up some of our favorites for you. One easy way to add a touch of fall to your patio table is with a centerpiece.

A simple vase filled with autumn leaves or pumpkins makes a beautiful and easy decoration. You could also try filling a Mason jar with mini pumpkins, acorns, or even berries for a pretty and festive look. If you want something a little more elaborate, try making a corn husk wreath or garland to adorn your table.

These make great DIY projects that you can do with the kids, and they'll definitely get you into the spirit of fall. Another fun idea is to create place cards out of mini pumpkins – just carve each person's name into the pumpkin and set it at their seat! Whatever decorations you choose, remember that simple is often best when it comes to outdoor entertaining.

After all, you want your guests to be able to enjoy the beautiful fall scenery while they're spending time with you on your patio!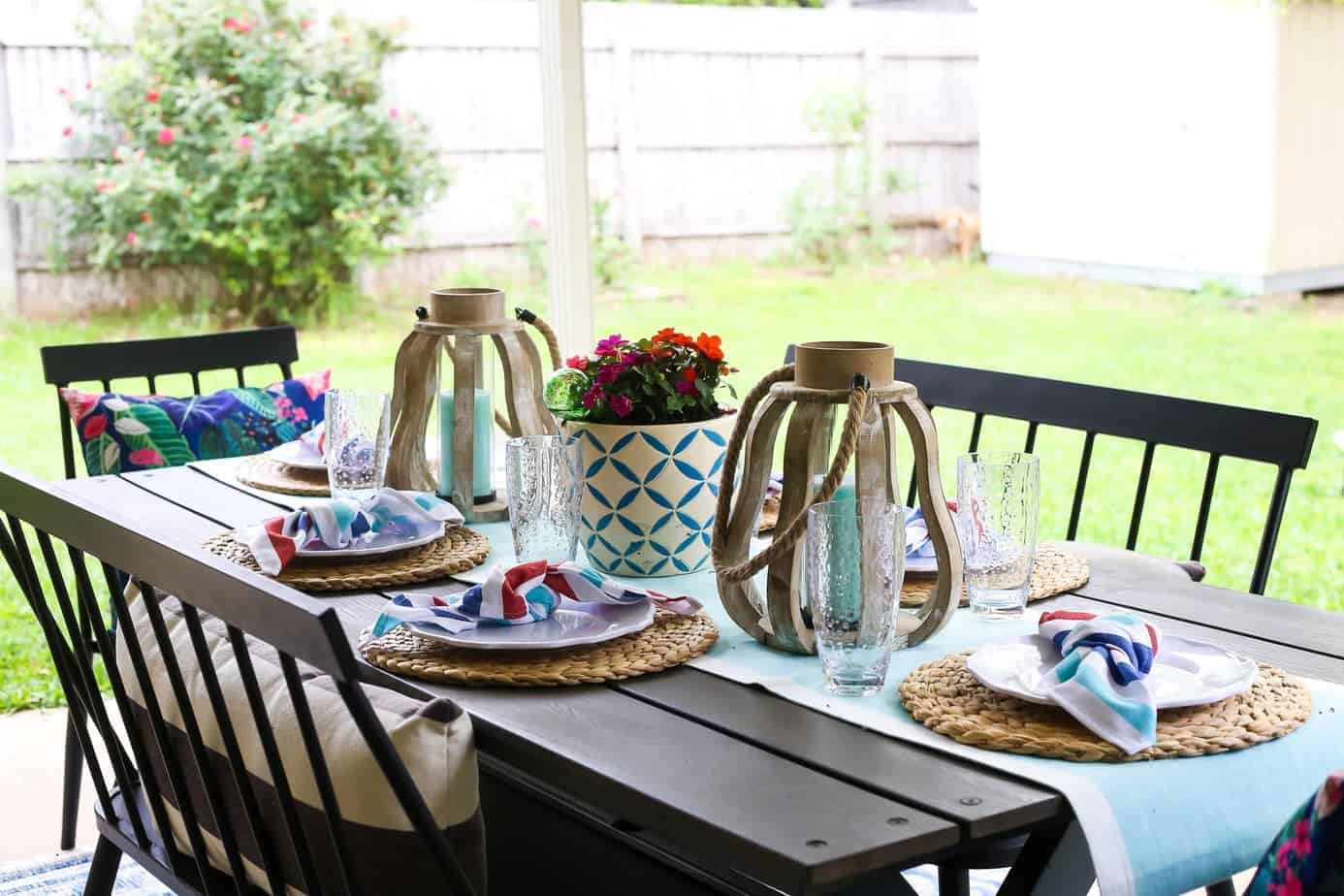 Credit: www.loveandrenovations.com
How Do You Style an Outdoor Table?
When it comes to styling an outdoor table, there are endless possibilities. It really depends on your personal style and what you hope to achieve with the space. Here are a few tips to get you started:
First, consider the overall theme or feel you want to create in your outdoor space. This will help guide your decisions about which furniture and accessories to use.
Make sure the furniture you select is appropriate for the climate and weather conditions in your area. You don't want anything too delicate that will be damaged by the elements. 
Consider comfort when choosing furniture and seating arrangements. You want people to be able to relax and enjoy themselves in your outdoor space, so make sure there's plenty of comfortable seating available.
Add some personal touches with accessories like throw pillows, blankets, candles, or lanterns. These items can really help bring your vision for the space to life while adding some extra warmth and coziness.
What Do You Put in the Middle of an Outdoor Table?
Assuming you are referring to a patio table, there are a few things you could put in the middle. A common decoration is a vase with flowers or greenery. This adds a pop of color and life to the table.

You could also use a lantern or candle holder for some ambient lighting. If you have more space, you could put out some appetizers or snacks for your guests. Get creative and have fun with it!
Credit: www.gardeningetc.com
How Can I Make My Table Look Beautiful?
There are many ways to make a table look beautiful. One way is to choose the right material for the tabletop. For example, glass or marble can give a luxurious look, while wood can give a more rustic vibe.

Another way to make a table look great is to choose the right base. A simple base made of metal or wood can be dressed up with an ornate design, or you could go for something more modern and minimalist. Finally, don't forget the accessories!

Adding some candles, vases, or other decorations can really help bring your table to life and make it look its best.
How Can I Decorate My Patio?
When it comes to decorating your patio, there are endless possibilities. It all depends on your personal style and what you want to use your patio for. Here are a few tips to get you started:
Start with the basics: If you're starting from scratch, begin by deciding on the essentials for your patio. This might include furniture, like a table and chairs, or a grill for cooking outdoors. Once you have the basics in place, you can start thinking about other ways to accessorize and decorate.
Consider your climate: If you live in an area with extreme weather conditions, be sure to take that into account when choosing patio furniture and decorations. For example, if you live in a hot climate, opt for materials that won't get too hot to the touch, like wicker or rattan. And if you live in a cold climate, make sure your furniture is well-insulated so it doesn't get too cold to sit on.
Add some color: One of the best ways to spruce up any outdoor space is with some color. This can be done through flowers, outdoor rugs, or even just colorful cushions for your furniture. Choose colors that complement each other and create a cohesive look.
Create an inviting atmosphere: The key to any good party is creating an inviting atmosphere. On your patio, this might mean stringing some fairy lights around the perimeter or hanging lanterns from tree branches overhead. Candles are also great for adding ambiance (just be sure to blow them out when you're finished!).
STUNNING Patio Design Ideas // Decorating & Styling with Studio McGee
Conclusion
A patio table is a great way to enjoy the outdoors while still being able to entertain guests. Here are some tips on how to decorate a patio table:
Choose a theme – A patio table can be decorated in any number of themes, so choose one that fits your style.

For example, if you love the beach, you could decorate your table with seashells and sand dollars.
Add color – Brighten up your patio table by adding colorful accents. This can be done with flowers, napkins, placemats, or even tablecloths.

Create ambiance – Candles are a great way to set the mood on your patio table. Choose scented candles or ones that fit with your chosen theme to really make it special.