What Is The Most Common Kitchen Sink?
The most common kitchen sink is the stainless steel sink. Stainless steel is a popular choice for kitchen sinks because it is durable, easy to clean, and versatile. It is also available in a variety of styles and sizes to fit any kitchen layout. Stainless steel sinks are resistant to scratches and stains, which makes them an ideal choice for busy households. They also do not require special cleaning products, as regular soap and water are enough to keep them looking sparkling clean.
Types of Kitchen Sinks
Kitchen sinks come in a variety of types and styles to suit the needs of any kitchen. From single bowl to double bowl, stainless steel to composite, the options are abundant. Single bowl sinks are perfect for a single user, offering plenty of space to fill, wash and rinse dishes. Double bowl sinks are great for multitasking, allowing you to divide the space for washing and rinsing dishes. Stainless steel sinks are easy to clean and maintain and can offer a sleek, modern look to any kitchen. Composite sinks come in a variety of finishes and are durable and scratch-resistant. They are also easy to clean and maintain. No matter the type of kitchen sink you choose, it should be the perfect fit for your lifestyle and kitchen design.
Materials Used in Kitchen Sinks
Kitchen sinks come in a variety of materials, including stainless steel, porcelain, acrylic, composite, quartz, and cast iron. Each material has its own unique benefits and drawbacks, so it's important to understand the pros and cons of each when making your selection. Stainless steel sinks are durable and versatile but may be prone to scratches and scuff marks. Porcelain sinks are classic and timeless but may chip over time. Acrylic sinks are lightweight and affordable but may become discolored over time. Composite sinks are a combination of materials, such as quartz and acrylic, offering a sturdy and stylish sink. Quartz sinks are extremely durable but may be pricey. And cast iron sinks are strong and long-lasting, but may require more cleaning and care. To get the most out of your kitchen sink, it's important to consider the material you choose and how it fits with your kitchen's décor.
Benefits of Different Kitchen Sinks
Kitchen sinks are an essential part of every home, and they come in a variety of styles and types to suit different needs. From stainless steel to granite to cast iron, there are a range of benefits to selecting the right sink for your cooking and cleaning needs. Stainless steel sinks are durable, easy to clean, and can handle higher temperatures. Granite sinks are heavy-duty and incredibly stylish. Cast iron sinks are incredibly strong and can last a lifetime, while composite materials are gaining in popularity for their strength and affordability. No matter what type of sink you choose, you can be sure to enjoy a range of benefits from having the right kitchen sink.
Installation Tips
"Installation Tips" is the perfect resource for those looking to get the most out of their purchases. Whether you're installing a new appliance, putting together a piece of furniture, or even changing a lightbulb, our Installation Tips blog has the answers you need! We provide step-by-step guides to make sure that your installation goes off without a hitch, as well as advice on troubleshooting any issues that may arise. With our Installation Tips blog, you can save time, money, and a lot of hassle when it comes to getting new items up and running. So don't hesitate – check out our blog today and get your installation done right!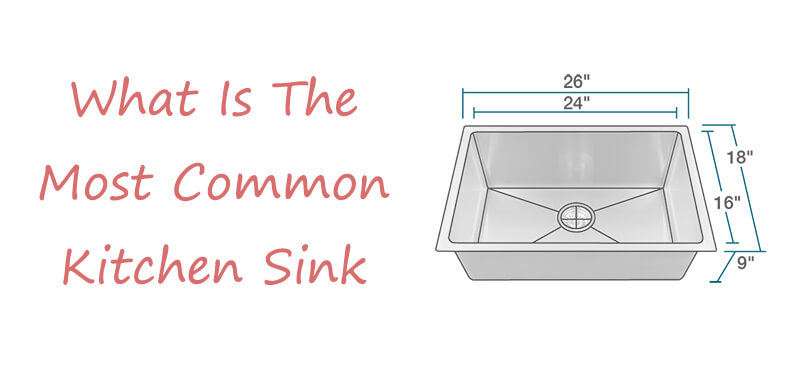 Image source: https://www.wowowfaucet.com/what-is-the-most-common-kitchen-sink-size/
Maintenance and Care of Kitchen Sinks
Kitchen sinks are an essential part of any kitchen – they are used for food preparation and cleaning dishes, so it is important to take care of them. Maintenance and care of your kitchen sink will keep it looking great and functioning properly, while also helping to prevent any potential damage. Regular cleaning of your sink will help to prevent soap scum, lime scale, and other debris from building up. Additionally, it is important to always use a drain strainer to catch any food particles and avoid clogging the sink. If you notice any cracks or chips in the sink, it is important to repair them as soon as possible to prevent any further damage. Finally, it is important to inspect the sink regularly and replace any worn or damaged components, such as faucets and drain stoppers. With regular maintenance and care, your kitchen sink will remain in great condition and serve you well for years to come.
Cost Comparison of Different Kitchen Sinks
A kitchen sink is an essential part of any kitchen. When it comes to deciding on the perfect sink for your kitchen, cost, and quality are two important factors to consider. This blog post will provide an overview of the different types of kitchen sinks and their cost comparison, so you can find the right one for your needs and budget. We'll discuss the advantages and disadvantages of each type so you can make an informed decision. We'll also cover the features to look for when shopping for a kitchen sink, as well as tips on how to save money. By the end of this blog post, you'll be well-equipped to buy the best kitchen sink for your home.
Common Mistakes When Choosing a Kitchen Sink
Choosing a kitchen sink is a big decision and it's important to get it right. Kitchen sinks come in many shapes, sizes, and materials, so it can be easy to make mistakes. Common mistakes when choosing a kitchen sink include choosing a sink that is too small for the space, not considering the material or the installation process, not measuring the countertop correctly, and not thinking about functionality. It's important to consider all of these factors when selecting a sink to make sure it is the perfect fit for your kitchen.
Conclusion
The most common type of kitchen sink is a stainless steel undermount sink. This sink is popular because it is durable and easy to maintain. It can also be installed in a variety of ways to suit any kitchen design. It is also an affordable option, making it a great choice for many homeowners.